« Pressure pan | Main | After it wipes off first of all with the kitchen paper, the oil dirt is washed. »
May 19, 2007
One person in four junior high school students 'eating breakfast alone'
May 19, 2007 03:46 PM | foodsnews

One person in four junior high school students had breakfast alone according to 'Outline of the healthy people and the nourishment investigation result' that the Ministry of Health, Labour and Welfare(Japan) had announced on May 16. The ratio answered, 'Only the child eats breakfast' has increased every year.
This investigation homes are 3588 families, 4257 men, and 4880 women. The investigation time is November, 2005.
The child who eats the breakfast of every day is 90 percent or more according to the result of the survey. There is especially no change since the ordinary year. However, the ratio to eat only by the child increases every year. The child of 40.9% is eating alone as a junior high school student by 40.3% and the elementary school lower classes in 42.5% and the upper-grades of the elementary school in fiscal year 2005 of the latest data. Especially, it is anxious to increase from 26.8% two years ago greatly in the elementary school lower classes.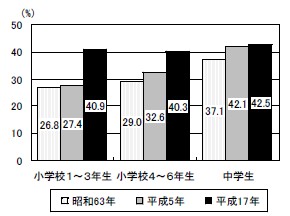 Transition of ratio in which only child eats breakfast.
'Eat alone' ratio was investigated. Even 25.3% of 'Eat only by the child' 42.5% answered in the junior high school student according to the investigation, 'Eat alone'. Even neither 'Is it originally the only child?' nor 'Do you eat alone though are siblings?' is understood in this investigation. However, there is no difference in a lonely breakfast.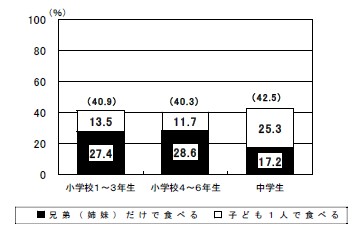 Ratio in which one child eats breakfast
The tendency that the time of child's supper slows at night, too also turns out. There are persons who worries about the disorder of eating habits, too. Everyone might have to enjoy oneself over breakfast at least on the weekend if it lives in the family.

5 latest articles on the same category
Permanent URL & Trackback
Permanent URL:

Opinion or Impression?
To [the simple BBS], or [mail to webmaster].