« Ginger grilling of pork that puts a lot of bean sprouts | Main | Easily boiled an apple »
August 02, 2009
Tomato bread with texture(in other words, mochi-mochi)
August 2, 2009 03:57 PM | cooked , dessert , microwave , recipes , staple , vegetable & fruit

*Outline
Bread of the mini size with the texture was made from virgin bloody Mary. It is possible to get it without difficulty by the handle of the person whom virgin bloody Mary cannot drink to cook. It is possible to do easily, and the nourishment of the tomato is enough. The flavor of the tomato writes up delicious of bread.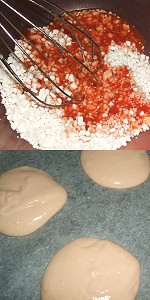 *Ingredients
Glutinous rice flour:50g
Virgin bloody Mary:70cc
Pancake mix:70g
Grated cheese:25g
Milk:30cc
*Instructions
1:Glutinous rice flour and virgin bloody Mary are mixed. It politely mixes it until the gem of glutinous rice flour disappears.
2:The pancake mix and the grated cheese are added to '1' and mix it. Milk is mixed in addition , and bring it together in one when mixing well.
3:'2' is made ten capitation and of each is rounded.
4:The cooking seat is put on a heatproof plate and '3' is put one by one. And, height is adjusted to 2 centimeters turning the heat on.
5:'4' is burnt for about 15 minutes with the oven of 180C.
6:Completion.
*Tips
1:Let's be polite and firmly mix glutinous rice flour.
2:When the summary fries in oil mixing all materials after it makes to capitation and round it, a delicious tomato doughnut can be done.

5 latest articles on the same category
Permanent URL & Trackback
Permanent URL:

Opinion or Impression?
To [the simple BBS], or [mail to webmaster].