« Chow mein style roasting of bean sprout in a covered pan | Main | Deep-frying doughnut of the pumpkin »
May 26, 2007
Cut and dried radish
May 26, 2007 06:38 PM | cooked , recipes , side , vegetable & fruit

*Outline
Cut and dried radish is preservation food that cuts the radish thinly and long and slenderly, and dries it. It puts in the boiled food and the miso soup and it uses it. Because the number of nutrients increases as for the radish if it dries it, a good recipe. Being possible to preserve it from the radish of the life for a long term is an advantage.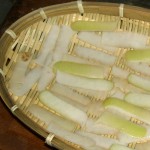 *Ingredients
Radish (part of skin): One obligation
*Instructions
1:The radish beautifully washed is cut in the width of about 5 centimeters. And, the skin is peeled off with the peeler.
2:So as not to come in succession on the bamboo basket, the skin that was able to be had is put.
3:It puts on the place where the skin of the radish put on the bamboo basket is tried to sunlight for five days from three days and it dries it. Please choose an airy place. The night and the day of rain are put in order in the house.
4:The skin of the radish is dehydrated.
5:Completion.
*Tips
1:When Cut and dried radish is preserved at the normal temperature, the color becomes yellow. It is possible to preserve it like being white if it preserves it with the freezer.
2:Please use the radish after the skin is cut for other dishes.

5 latest articles on the same category
Permanent URL & Trackback
Permanent URL:

Opinion or Impression?
To [the simple BBS], or [mail to webmaster].