« Furofuki radish | Main | Pumpkin fried sugar-coated dough(Pumpkin Karintoh) »
May 29, 2007
Oribe bun of pumpkin
May 29, 2007 01:11 PM | cooked , dessert , microwave , recipes , vegetable & fruit

*Outline
'Oribe bun' is a bun to have imitated 'Oribe scorch coming' of pottery. This was made from the pumpkin. In brown of the pumpkin and green of green tea, the atmosphere of the Oribe grilling has been put out.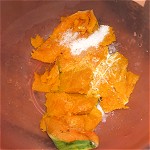 *Ingredients
Pumpkin: 1/4 pieces
Butter:1 big spoon
Sugar:1 big spoon
Whipped cream:1 big spoon
Salt:A little
Green tea: A little
*Instructions
1:The skin of the pumpkin is peeled off. And, it heats it with the microwave oven for about 7 minutes.
2:The heated pumpkin is put in the bowl and it crushes.
3:Butter, sugar, whipped cream, and the salt are put in the crushed pumpkin and it often mixes it.
4:The green tea melted with a little hot water is mixed with 1/3 of the mixed pumpkins.
5:The pumpkin that makes green tea and the pumpkin not put are made with the Saranwrap together like wrapping and make like the ball.
6:It cools it.
7:Completion.
*Tips
1:The hot water when green tea is melted is a small amount. When it is a lot of, the pumpkin becomes watery.
2:Even if the cocoa etc. are put in according to the favorite besides tea, it becomes delicious.

5 latest articles on the same category
Permanent URL & Trackback
Permanent URL:

Opinion or Impression?
To [the simple BBS], or [mail to webmaster].