« Hari hari pickles of cut and dried radish | Main | Boiled food of Cut and dried radish »
June 14, 2007
Miso stir-frying style of eggplant
June 14, 2007 05:32 PM | cooked , meat , microwave , recipes , side , vegetable & fruit

*Outline
The miso stir-frying of the eggplant was made only with the microwave oven. It named "style" because it doesn't stir-fry. The sweetness of the eggplant and the miso often becomes familiar, and the comparison with hotful of the hot sesame oil looks better. It is fit in the side dish of rice.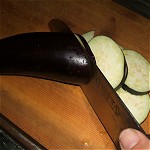 *Ingredients
Eggplant: 1
Pork:50-100g
Miso:1/2 big spoons
Soy sauce:1 teaspoon
Sugar:1 teaspoon
Hot sesame oil: Favorite
*Instructions
1:For heat to pass easily, the eggplant is cut small. It is the easiest to make it from 5mm to about 10mm round slices.
2:The cut eggplant is put in a heatproof container, and it covers with pork there. And, the miso, the soy sauce, sugar, and the hot sesame oil are added.

3:It heats it with the microwave oven for 3 minutes.
4:It heats it with the microwave oven further for 1.5minutes mixing '3'.
5:Completion.
*Tips
1:It can enjoy the taste of hotful of another by adding the pepper without putting the hot sesame oil in at the end. Moreover, sesame oil is added, and the taste is changed by the favorite as the soy sauce is added further.
2:A peculiar texture to sesame will join when sesame is sprinkled at the end, and the accent be given.
5 latest articles on the same category
Permanent URL & Trackback
Permanent URL:

Opinion or Impression?
To [the simple BBS], or [mail to webmaster].