« Soboro bowl rice | Main | Hari hari pickles of cut and dried radish »
June 09, 2007
Pork & poteto in broth(Niku-jyaga)
June 9, 2007 02:34 PM | cooked , main , meat , microwave , recipes , vegetable & fruit

*Outline
The cooking dish that used the vegetables such as the potato, the carrots, and onions. It is standard of Japanese food during the standard. There is a magical charm that doesn't get tired even if eating every day. There are various variations basic though three vegetables (the potato, the onion, and the carrot).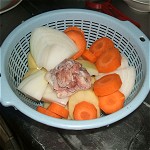 *Ingredients
Pork (beef): 80-100g
Potato: 3-4 pieces
Carrot: 1/2
Onion: 1/2-1 pieces
Soy sauce:1 big spoon
Stock:1 big spoon
Sugar:1 big spoon
Mirin:1 big spoon
*Instructions
1:After it washes beautifully, the potato takes the bud with the spoon. And, it cuts it in the half. The skin is peeled off according to the favorite.
2:The onion is cut in the size of 1/4. The carrot does the round slices to the thickness of about one centimeter. Because it is not easy to pass the fire to the carrot, carving the cross is shallowly put in the section.
3:'1', '2', pork (Favor and beef), and various seasonings are put in the container.
4:'3' is heated with the microwave oven for five minutes.
5:'4' is taken out, and mixed. It heats it again for about three minutes.
6:Completion.
*Tips
1:It cools it once when completing. And, it warms it again immediately before eating. Then, the taste improves.
2:Appropriate heating time changes by the amount of the potato and the carrot. When heating is insufficient, it becomes underdone. The carrot dries up when heating it too much. Note it.

5 latest articles on the same category
Permanent URL & Trackback
Permanent URL:

Opinion or Impression?
To [the simple BBS], or [mail to webmaster].