« Sesame dressing of carrot | Main | Mustard salad of carrot »
July 29, 2007
Mirin ragout of carrot
July 29, 2007 11:46 AM | cooked , recipes , side , vegetable & fruit

*Outline
The dish that put the mirin that can enjoy different from sweetness and that of the carrot sweetness and delicious together. It is likely to be able to enjoy it more than it eats with single goods as suiting putting up of meat and fish's main dishes.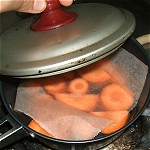 *Ingredients
Carrot:1
Mirin:Proper quantity
Water:Proper quantity
*Instructions
1:The carrot is made the round slices of the thickness about 2 centimeters. What became large circle is cut in the half further, and made a semicircle type.
2:The carrot is put in the pan. And, water and the mirin are added to the pan at a rate of 2:1. The amount covers with the entire carrot and is a certain level.
3:It covers with the cooking paper up, and the drop lid is made. And, it cooks it by can even pass chopsticks through the carrot by medium flame-low flame.
4:Completion.
*Tips
1:It can enjoy another tasting by adding the pepper and the cayenne pepper. However, eating as it is because of tasting of this dish the sweetness of the carrot and the mirin might be the best.
2:The pan is able not to be used and to make it also with the microwave oven. The drop lid is made from not the cooking paper in that case but the Saranwrap, and, in addition, it covers on that with the Saranwrap. It is likely to have to adjust it according to the amount and the kind of the microwave oven though the heating time is about 7 minutes.
5 latest articles on the same category
Permanent URL & Trackback
Permanent URL:

Opinion or Impression?
To [the simple BBS], or [mail to webmaster].