« Miso stir-frying style of Green pepper, carrot, and Shimeji | Main | Mirin ragout of carrot »
July 29, 2007
Sesame dressing of carrot
July 29, 2007 11:41 AM | cooked , microwave , recipes , side , vegetable & fruit

*Outline
The sesame oil file sesame was added to the carrot, it mixed, and the dressing thing that was able to enjoy the flavor of sesame and the texture of the carrot was made. Being possible to do easily is an advantage.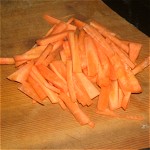 *Ingredients
Carrot: 100-150g
Soy sauce:1-2 teaspoons
Sesame oil:1 teaspoon
Rubbing sesame:1 teaspoon
*Instructions
1:It tears up the carrot. And, it heats it with the microwave oven for 2-3 minutes.
2:The soy sauce, sesame oil, and the rubbing sesame are mixed with '1', it often mixes, and the seasoning is twined round the carrot.
3:Completion.
*Tips
1:The part where the fire doesn't go goes out if the carrot is not cut in narrowing. It will be also good that the person who likes texture dares to do so.
2:When it is added that several drops or cayenne peppers of the hot sesame oil in sweeps, the sharp taste becomes an accent. Please try a person not satisfactory only by the sweetness of the carrot.

5 latest articles on the same category
Permanent URL & Trackback
Permanent URL:

Opinion or Impression?
To [the simple BBS], or [mail to webmaster].