« Sesame miso stir-frying of pork and potato | Main | Sweet potato Kempi »
August 28, 2007
Tempura of burdock and carrot(Kakiage of burdock and carrot)
August 28, 2007 03:11 PM | cooked , egg , main , recipes , vegetable & fruit

*Outline
A simple taste and the smell are wonderful tempuras. The dietary fiber is abundantly included and it is healthy. The tooth response also is full marks and has the eating effect. You may use it to cook making and the remainder a lot.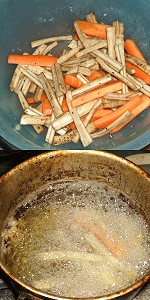 *Ingredients
Burdock:1/2
Carrot:1/3
Egg:1/2 pieces
Water:40g
Flour:30g
Seasoning with salt and pepper:Proper quantity
Vinegar:Proper quantity
*Instructions
1:It makes to the burdock, five centimeters the carrot length, and the thickness about 5 centimeters and it makes it to a minute switching off. And, it removes harshness applying it to the one that water and vinegar were mixed.

2:Flour is added mixing the egg and water. And, it lightly mixes it.
3:The burdock and the carrot are put out from water and water is drained beautifully. And, seasoning with salt and pepper is sprinkled.
4:'3' is added to '2', it mixes lightly, and it often twines round surroundings.
5:It deep-fries in oil that warms '4'.
6:Completion.
*Tips
1:The little boy carrot becomes difficult for the fire to pass it if it thick cuts it. Let's divide so that the thickness may become even.
2:It is delicious even if eating applying the soy sauce even if it eats the deep-frying setting up as it is.
3:Oil is a medium flame. Oil splashes greatly when the material is put when making it to the high heat and it is dangerous.
5 latest articles on the same category
Permanent URL & Trackback
Permanent URL:

Opinion or Impression?
To [the simple BBS], or [mail to webmaster].