« Stir-frying boiling of mushroom and potato | Main | Tsukune ball »
October 27, 2007
Sharp taste stir-frying of lotus root
October 27, 2007 02:12 PM | cooked , main , meat , recipes , side , vegetable & fruit

*Outline
The sharp taste suits the texture with which the lotus root is steady very much. A delicious meal will be able to be done if it makes it as a side dish of meal.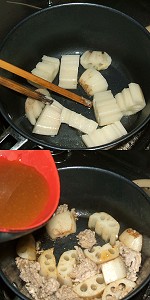 *Ingredients
Lotus root:250g
Pig minced meat:150g
Miso:1 big spoon
Sake:2 big spoons
Sugar:1 big spoon
Mirin:1 big spoon
Soy sauce:1 teaspoon
Sweet soy-beans bar:1 teaspoon
Sesame oil:1 big spoon
Welsh onion:Proper quantity
Vinegar:Proper quantity
*Instructions
1:The skin of the lotus root is peeled off. And, it does half in length completely. In addition, it cuts it in the thickness of 1.5 centimeter-1.0 centimeter (Become a type at the half month). And, it soaks it in water that mixes vinegar for 5 minutes. The Welsh onion is finely chopped.
2:The miso, sake, sugar, the mirin, and the soy sauce are mixed.
3:It heats it pouring sesame oil into the pan. When the fire passes, the lotus root is stir-fried with the medium flame. When oil blots to the lotus root, sweet soy-beans bar is put and it stir-fries further.
4:When the smell of sweet soy-beans bar comes out because of heat, it stir-fries adding the pig minced meat.
5:It stir-fries further adding '2' when the fire passes to the pig minced meat of '4' and it discolors.
6:'5' is stir-fried until moisture disappears.
7:It mixes it adding the carved Welsh onion. And, it shuts off the heat.
*Tips
1:Instead, please add the cayenne pepper and the hot sesame oil when there is no sweet soy-beans bar.

2:Please decrease the amount of the soy sauce when the salinity of the miso is thick.

5 latest articles on the same category
Permanent URL & Trackback
Permanent URL:

Opinion or Impression?
To [the simple BBS], or [mail to webmaster].