« Sharp taste stir-frying of lotus root | Main | Sweet Potato and apple sweetly boiled »
October 27, 2007
Tsukune ball
October 27, 2007 02:17 PM | cooked , egg , main , meat , recipes , side , vegetable & fruit

*Outline
Popular ingredient of Japanese hotchpotch and yakitori "Tsukune ball". Even you can make it though it takes time a little. It might be also good to add the material by the favor, and to put out an original taste.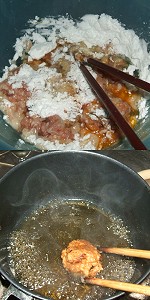 *Ingredients
Chicken's minced meat:150g
Egg:1/2 pieces
Welsh onion:1/2
Squeezing soup of ginger:1 teaspoon
Soy sauce:1 teaspoon
Miso:1 teaspoon
Potato starch:1 big spoon
Salad oil:Proper quantity
Cayenne pepper:Proper quantity
(for another item.....shining soy sauce)
Sugar:1 big spoon
Soy sauce:1 big spoon
Mirin:1 big spoon
sake:1 big spoon
*Instructions
1:The Welsh onion is minced. It often mixes it adding the ginger chicken's minced meat, egg, squeezing soup, soy sauce, miso, Welsh onion, and potato starch. You will mix it until the stickiness goes out.
2:Oil is applied to the palm a little. And, '1' is rounded to globular of 3-4 centimeters in the diameter.
3:Even an inside sound heats oil, and '2' is deep-fried slowly. The standard by toasting.
4:The material of "Shining soy sauce" is put in the pan and it heats it by the medium flame.
5:When '4' boils, the chicken minced meat fried with '3' is put. And, it condenses it while rolling it.
6:Completion.
*Tips
1:It boils it with the hot water without frying in oil, and you may be burnt of the net and come. The calorie can be cut though the fragrance burnt by the fire disappears.

5 latest articles on the same category
Permanent URL & Trackback
Permanent URL:

Opinion or Impression?
To [the simple BBS], or [mail to webmaster].