« Tsukune ball | Main | Boiling-soaking of cabbage »
November 03, 2007
Sweet Potato and apple sweetly boiled
November 3, 2007 02:48 PM | cooked , dessert , recipes , side , vegetable & fruit

*Outline
A sweet potato and the apple were naturally matched even if it did not add sugar and it cooked it lightly. Tasting neatly made by adding the lemon soup joins, too. Please eat as sweets or a side dish.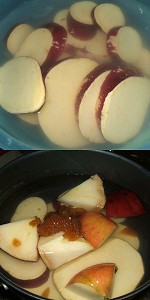 *Ingredients
Sweet potato:1
Apple:Half
Honey:1 big spoon
Lemon:A little
*Instructions
1:The sweet potato is beautifully washed. And, the skin is made the round slices of one centimeter without peeling off. And, the sweet potato is soaked in water.
2:The apple is beautifully washed. And, the skin doesn't peel off, and cut into quarters into length. And, it is made four capitation further. It becomes small hexahedron shape.
3:The sweet potato of '1' is put in the pan. And, the apple of '2' is put on that. In addition, the apple adds water to water by receiving. Honey is added there. And, it cooks with the gas turned low.
4:It cooks it until the boiling soup decreases. It shuts off the heat when finishing cooking it. And, it is adjusted with honey with soup that squeezes the lemon to the taste of the favorite.
5:Completion.
*Tips
1:The person who likes light taste must put the soup of the lemon a lot. The person who likes rich taste must add butter a little.
2:Please take care about the degree of fire. It boils in the high heat and it collapses.

5 latest articles on the same category
Permanent URL & Trackback
Permanent URL:

Opinion or Impression?
To [the simple BBS], or [mail to webmaster].