« Mochi-mochi soybean flour doughnut | Main | Sweet potato Uiro »
December 01, 2007
Easy okonomiyaki style omelette
December 1, 2007 11:04 AM | cooked , egg , microwave , recipes , side , vegetable & fruit

*Outline
The omelette of the okonomiyaki style that can be easily made with the microwave oven. Because oil is not used, it is healthy. It does recommended so that the article may add to meal.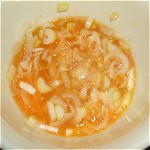 *Ingredients
Egg:1
Soy sauce:1 teaspoon
Dried bonito:Proper quantity
Welsh onion:A small amount
Source:Proper quantity
Sesame:1/2 teaspoons
Mirin:1/2 teaspoons
*Instructions
1:The Welsh onion is minced.
2:The egg is divided into a heatproof container of the bowl type and it puts it. The soy sauce, the mirin, and the Welsh onion are added. It mixes it.
3:It heats it with the microwave oven for 1 minute without putting the Saranwrap.
4:The dried bonito and sesame are added to '3' and it often mixes it. And, it heats it with the microwave oven for 1 minute further.
5:The egg that has hardened is taken out of the container, and it puts some sauce on up.
6:Completion.
*Tips
1:You may add the sausage and the heaven lees by the favor.
2:It becomes in the further okonomiyaki style when the coming, meat, and squid are added, and it also takes time. Let's simply enjoy atmosphere.

5 latest articles on the same category
Permanent URL & Trackback
Permanent URL:

Opinion or Impression?
To [the simple BBS], or [mail to webmaster].