« Chinese sesame dressing of bean sprout | Main | Banana bread »
June 08, 2009
Mustard marinade of bean sprout
June 8, 2009 02:39 PM | cooked , recipes , side , vegetable & fruit

*Outline
The marinade (dish that was soaked in the soaking soup that consisted of vinegar and the lemon, etc. and made) was made by using the bean sprout. Amasppa heals tiredness.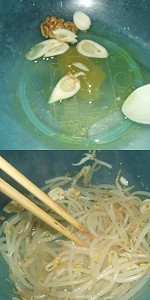 *Ingredients
Bean sprout:1/2 bags
Garlic:1/2 putting
Whole-grain mustard:1 teaspoon
Olive oil:1 big spoon
Vinegar:1 big spoon
Honey: teaspoon
Thinly sliced of lemon: Two pieces
*Instructions
1:Garlic is thinly cut. And, mix it further putting the whole-grain mustard, the olive oil, vinegar, and honey in one container, mixing, and adding garlic.
2:The bean sprout is boiled by about two parts of the hot water. And, move it to the bamboo basket.

3:'2' is put in '1' and mix it.
4:'3' is moved to the container, the lemon is cut in the half, and put it on.
5:Completion.
*Tips
1:A person not good at the garlic of the life need not put it.

5 latest articles on the same category
Permanent URL & Trackback
Permanent URL:

Opinion or Impression?
To [the simple BBS], or [mail to webmaster].