« The tofu puts flour jam and soboro | Main | Tempura(kakiage) of potato »
June 26, 2007
Sesame vinegar dressing of bean sprout and green pepper
June 26, 2007 11:21 AM | microwave , recipes , side , vegetable & fruit

*Outline
The dressing thing that dressed the green pepper and the coconut with vinegar. The flavor of sesame writes up the taste. The article that seems to come out in passing the tavern.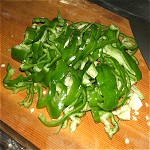 *Ingredients
Bean sprout:100g
Green pepper:1 piece half
Mirin:1 teaspoon
Kneading sesame:1 big spoon
Salt:A little
Soy sauce:1 teaspoon
Vinegar:2 big spoons
*Instructions
1:The green pepper is thinly cut. Almost the same size as the bean sprout.
2:The green pepper and the coconut are put and mixed with the container. The mirin is sprinkled there. And, it heats it with the microwave oven for three minutes putting the Saranwrap.
3:The kneading sesame, the salt, the soy sauce, and vinegar are mixed.
4:'2' and '3' are mixed immediately before eating.
5:Completion.
*Tips
1:The green pepper comes for the fire not to pass easily when it is too large.
2:It can enjoy another tasting by suiting one's taste by mixing a small amount of miso and sesame oil.

5 latest articles on the same category
Permanent URL & Trackback
Permanent URL:

Opinion or Impression?
To [the simple BBS], or [mail to webmaster].