« Sesame vinegar dressing of bean sprout and green pepper | Main | Deep-fried potato with flour jam »
June 26, 2007
Tempura(kakiage) of potato
June 26, 2007 04:04 PM | cooked , egg , main , recipes , vegetable & fruit

*Outline
The tempura that grew the mushroom centering on the potato mixing it. The texture with which the potato is steady and the flavor of oil as the tempura are good each other. Because the mushroom put together becomes an accent, it will be able to enjoy the tastes more than the tempura of a mere potato.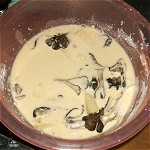 *Ingredients
Potato: 1-2 pieces
Shimege, the mushroom, and Makinoco (varieties mushroom): Several pieces.
Flour:100g
Egg:1
Water:150g
Seasoning soup:Proper quantity
Mirin:Proper quantity
Soy sauce:Proper quantity
*Instructions
1:The potato is thinly cut. About 10mm of the section part might be good from 8mm. Shape like french fries of the fast food. It applies it to water when finishing cutting it.
2:The mushroom is cut in a suitable size or taken to pieces. The fire doesn't pass like being large.
3:The egg and water are put in flour and it often mixes it. This becomes a tempura powder.
4:'1' is put in the tempura powder and it often mixes it. When the tempura powder attaches enough to the material as clothes, it deep-fries in the oil heated by the medium flame. It takes it out of oil when the condition is deliberately seen as shown in the fire, and it becomes light brown when the tool is put in oil.
5:The tempura soup that applies the tempura is made mixing seasoning soup (the dried bonito and the soy sauce are added to water in case of not being) and the mirin and the soy sauce.
6:Completion. You will eat applying the rising tempura to the tempura soup.
*Tips
1:"Kakiage" is a kind of the tempura with which two or more tool materials are deep-fried with clothes.

2:The oil when the tempura is fried will mix sesame oil with usual oil by about 20 % from 10 %. The flavor improves greatly.
3:Oil splashes greatly when the tempura is put when oil is left heated by the high heat. The burn might be done. Please note the treatment of the fire enough.
4:Paving the oil removing paper (Newspaper in case of not being) on the plate, and going in order in the fried tempura on that beforehand might be good.

5 latest articles on the same category
Permanent URL & Trackback
Permanent URL:

Opinion or Impression?
To [the simple BBS], or [mail to webmaster].