« Sweet potato buckwheat dumpling | Main | Salad of radish and carrot »
January 12, 2008
Fried rice cake
January 12, 2008 11:01 AM | cooked , dessert , recipes

*Outline
Indispensable rice cake for dish at New Year. However, when the New Year is passed, the nuisance is treated at once. The cake from which such a rice cake was eaten delicious was made. The one of the taste not defeated at a rice cracker on the market is completed though the preparation is a little necessary.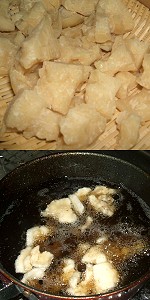 *Ingredients
Rice cake:Proper quantity
Frying oil:Proper quantity
Salt:A little
Soy sauce:A little
Seven spices:A little
*Instructions
1:The rice cake is dried so as not to get wet because of shade noting it. When it is possible to crack, it breaks in detail to dry to the inside the size of about one centimeter.
2:A new frying oil is heated. And, the proper quantity still puts '1' while the temperature is low. Possession swells as the temperature of oil goes up, and it floats.
3:Takes it out of oil when becoming thin and light brown. And, oil is cut on the oil removing paper.
4:The salt, the soy sauce, and seven spices are sprinkled to '3' in the favorite.
5:Completion.
*Tips
1:When frying in oil, it becomes soft if it doesn't dry enough.
2:A big fragment pops when frying in oil. It is necessary to note it so as not to do the burn.

5 latest articles on the same category
Permanent URL & Trackback
Permanent URL:

Opinion or Impression?
To [the simple BBS], or [mail to webmaster].