« Salad of radish and carrot | Main | Salad of combustion eggplant and tomato »
January 19, 2008
Spring roll of sweet potato
January 19, 2008 10:27 AM | cooked , dessert , microwave , recipes , side , vegetable & fruit

*Outline
The sweet potato was kneaded up, and it rolled it by the skin of the spring roll. The deep-frying thing where the sweetness of the sweet potato shines. Eating as the cake might be good for dependence of side dish of meal.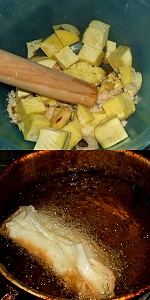 *Ingredients
Sweet potato:1
Skin of spring roll:6 pieces
Raw sugar:2 big spoons
Salt:A little
Frying oil:Proper quantity
*Instructions
1:The sweet potato peels off the skin. And, it washes in water. And, it cuts it in hexahedron of 2 centimeters shape. The cut sweet potato is applied to water for 10 minutes.
2:'1' is put out from water, and puts it in another container. And, it covers with the Saranwrap and heats it with the microwave oven for 5-7 minutes.
3:Raw sugar and the salt are added to '2', and it mixes it while crushing the sweet potato.
4:'3' is encompassed by the skin of the spring roll. It firmly stops it applying water to the part where wrapping was finished.
5:The frying oil is heated, and '4' is deep-fried with the medium flame.
6:Completion.
*Tips
1:Even if it is few, the black sitting light might be acceptable because the sweet potato is sweet enough.
2:Even if the sweet potato is crushed rough or is crushed in detail, a delicious spring roll can be done.

5 latest articles on the same category
Permanent URL & Trackback
Permanent URL:

Opinion or Impression?
To [the simple BBS], or [mail to webmaster].