« Hotful stir-fry of chicken and tomato | Main | Fried rice of Welsh onion »
March 22, 2008
Easy, tandoori chicken of chicken's breast meat
March 22, 2008 05:40 PM | cooked , meat , microwave , recipes , side

*Outline
The easy tandoori chicken by which catsup and the source increase delicious that can be made with the microwave oven. To add one shape good goods, it does recommended.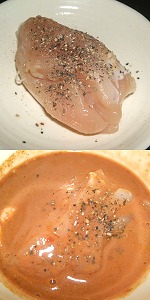 *Ingredients
Chicken (breast meat):1(150g)
Yogurt:2 big spoons
Tomato ketchup:1/2 teaspoons
Worcester sauce:1/2 teaspoons
Curry powder:1/3 teaspoons
Seasoning with salt and pepper:Proper quantity
*Instructions
1:The chicken lightly sprinkles seasoning with salt and pepper.
2:The yogurt, tomato ketchup, the Worcester sauce, and the curry powder are mixed. And, '1' is sent in. Time is made to be passed for about 10 minutes.
3:'2' is heated with the microwave oven for about 2 minutes.
4:'3' is taken out and it puts in '2' again.
5:'4' is taken out and puts it on aluminum foil. And, it burns with the toaster oven for 5 minutes.
6:Completion.
*Tips
1:After it burns, cutting in the size that eats easily might be good.

5 latest articles on the same category
Permanent URL & Trackback
Permanent URL:

Opinion or Impression?
To [the simple BBS], or [mail to webmaster].