« Vinegared dish of tomato and deep-fried batter balls | Main | Deep-fried batter balls croquette modoki »
September 21, 2008
Deep-fried batter balls bowl of grated radish
September 21, 2008 10:10 AM | cooked , recipes , staple , vegetable & fruit

*Outline
Hotful of the grated radish is suitable for the thickness of the taste of deep-fried batter balls very well. It is delicious though puts on meal this time and made it to the bowl even if it puts it to the noodle and nearby.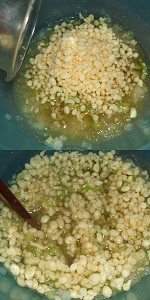 *Ingredients
Radish:100g
Versatility:3 obligations
Shoyu soup for noodle(for soaking):70cc
Deep-fried batter balls:1/2 cup(100cc)
Meal:1 teacup
*Instructions
1:The radish is made a grated radish with a wholesale container. Versatility is cut in pieces in detail.
2:'1' and the noodle soup and deep-fried batter balls are put and mixed with the bowl.
3:'2' is put on hot meal(rice).
4:Completion.
*Tips
1:Even if the carving seaweed and the dried bonito are dispersed a little on, it might be delicious.

5 latest articles on the same category
Permanent URL & Trackback
Permanent URL:

Opinion or Impression?
To [the simple BBS], or [mail to webmaster].