« Deep-fried batter balls croquette modoki | Main | Boiled food with deep-fried batter balls of dried radish »
September 28, 2008
Miso deep-fried batter balls carving Welsh onion soup
September 28, 2008 09:15 PM | cooked , recipes , side , vegetable & fruit

*Outline
Deep-fried batter balls was added to the miso soup always drunk. Enough putting the carving Welsh onion, and tasting with slightly bitter are expert.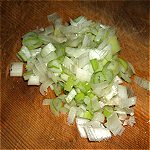 *Ingredients
Seasoning soup:400cc
Miso:2 big spoons
Welsh onion:1/2
Deep-fried batter balls:4 big spoons
*Instructions
1:The Welsh onion is carved little by little.
2:Seasoning soup 400cc is put in the pan and it cooks with the gas set to medium. And, the miso is added. It boils as it is for about 30 seconds.

3:'1' and deep-fried batter balls are added to '2'.
4:'3' is boiled by one degree like the medium flame. And, it shuts off the heat.
5:Completion.
*Tips
1:When sesame and the cayenne pepper are added, it can be more delicious.
5 latest articles on the same category
Permanent URL & Trackback
Permanent URL:

Opinion or Impression?
To [the simple BBS], or [mail to webmaster].