« Boiled food with deep-fried batter balls of dried radish | Main | Circle bolo »
October 04, 2008
Deep-fried batter balls vinegar dressing of new onion
October 4, 2008 11:10 AM | cooked , recipes , side , vegetable & fruit

*Outline
The texture of a new onion and deep-fried batter balls is happy daily dishes. It became tasting neatly made because it was able to be suitable in vinegar. The flavor of sesame oil will advance in chopsticks.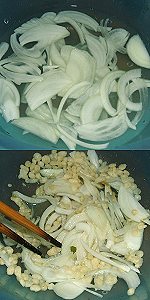 *Ingredients
New onion:1/2 pieces
Vinegar:2 big spoons
Deep-fried batter balls:1/2 cup(100cc)
Sesame oil:1 teaspoon
*Instructions
1:A new onion is thinly cut in length. And, water 400cc and 1 big spoon of vinegar are put in the bowl, and the onion is soaked for about 3 minutes in that. It takes out of water, and the water is cut afterwards.

2:'1' and sesame oil, one big spoon of vinegar, and deep-fried batter balls are put in the bowl by one big spoon of water. And, mix it.
3:Completion.
*Tips
1:You may add dressing instead of sesame oil.
2:Hotful taste joins when sesame oil is made few, and the hot sesame oil is added and the accent attaches to the taste.

5 latest articles on the same category
Permanent URL & Trackback
Permanent URL:

Opinion or Impression?
To [the simple BBS], or [mail to webmaster].